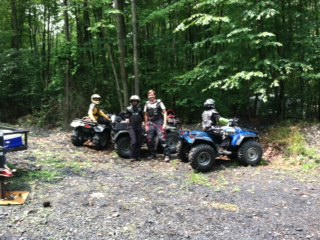 By Suann Bidwell, Owner of The Bidwell Group.
So you are going quading, or as some people say riding ATV's (all terrain vehicles). If you are new or haven't ridden in awhile, here are some tips from my own personal experience. Now I am not claiming to be an expert, but I am happy to share what I have learned from this fun and exhausting experience.
First, make sure you go with experienced riders. Riding a quad is fun & exciting, but can be very dangerous if you are not experienced, and don't know the trails you are riding. I went with my husband, two of my sons, and a family friend who has been quading for over 16 years. While at the quading park (which was HUGE!) we met a father and son who came up for the first time, on mini-quads (much smaller and can't ride all the terrain). They were inexperienced and didn't know the park, so we invited them to ride with us. They had a blast and at the end of the day, thanked us, because they would have had a hard time navigating the park, and because they were on mini-quads could not ride all the trails and could have been hurt or gotten stuck. Don't ride alone and know the trails your riding!
The Gear. Us ladies like to shop for shoes and clothes and accessories, well this is a mans shopping dream! Gear for the off road adventure. First make sure you have a well fitting helmet, not a bike helmet or any other type, but a helmet made for riding ATV vehicles. Super important, it is so easy to fall off a quad, flip, get hit by branches etc. I am sure you get the point. Along with the helmet, make sure you have goggles (ski goggles work great), there is so much dust and mud, you and your face will be covered! Next is the chest protector, now you may say why do I need this? Well, just image getting hit with a rock flying, a branch, or if you flip or fall off the quad you will be happy and lucky to have the chest protector on. Other necessary items, a good pair of boots (hiking boots work), quading pants (ski pants also work) you will get very wet and muddy from the puddles, and the dust is out of control, plus if it rains or is cold you will be so happy you have these on. Also, riding gloves, wear a long sleeve shirt (yes even in the summer- the branches will tear up your arms), in the winter obviously a coat (something that is not your best – sometimes the mud won't all come out!), and a good pair of socks!
Stuff to pack in the backpack.  You will want to bring some sort of small backpack or if your quad has compartments you can put your things in there. You will need to pack water or a Gaterade type product to stay hydrated, and an ice pack (if its summer). A cell phone, camera(if you wish-take pictures for the memories), snacks (you will get hungry and there are no stores to get food on the trails), first aid kit, toilet paper (no bathrooms either), any medications you need (ex. asthma rescue inhaler), your ID, some cash (you never know), rain poncho (just in case of a down pore!),and a small face towel. And very important, anything that you cherish and don't want destroyed put in a ziplock bag! For example like a cell phone, if it drops in the mud say goodbye!
Your Quad.  Make sure your quad is in good working condition before you get to the park. Take it for a test ride, have someone check it out for you. Next make sure the gas tank is full, and make sure you check you gas levels during the trip, particularly if you are going to be out all day. If would really stink to run out of gas in the middle of the woods!
In the your car.  When you are done, you will be very tired and muddy, dusty etc. Make sure you have packed an extra set of clothes, shoes, socks, and anything else you might think you need.
FInally, quading is a fun sport, but has its risks, so just be safe and prepared and you will have a blast! And one last tip, make sure you get a good nights sleep the night before and eat a good breakfast! It will wear you out, but in a good way!
If you would like to go quading or any other type of adventure or trip, call The Bidwell Group. at 609-744-6121. We have a full service travel department that can fulfill all your travel and sporting adventure needs.